Until recently market dynamics have been something like the following: Trump threatens more tariffs, the market sells off, the fed eases and the market rallies. I wrote about this in a past article entitled Trump is Beating the Fed like a Rented Drum Set.
Phase I: Get Interest Rates Low
The result is interest rates at 1.5-1.75%, "This is not QE" QE, and the S&P 500 at all time highs.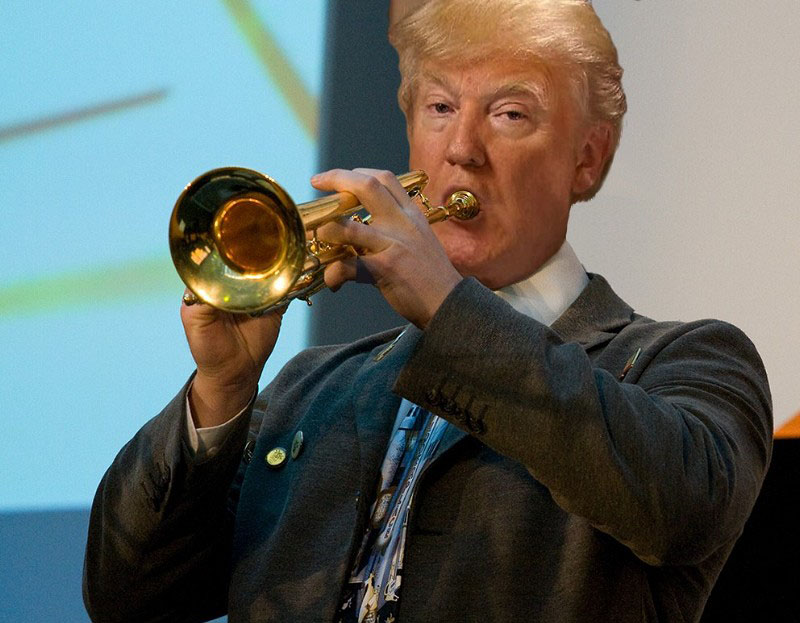 I believe Trump's prospect for reelection is tied almost entirely to how the stock market performs. So why would he threaten tariffs if they cause the market to go down?
I conjecture firstly that Trump genuinely believes in tariffs and secondly: so he gets lower rates.
But this is only Phase I: where interest rates are already low and perhaps the Fed has signaled they intend to keep lowering. On 30 October the Fed poured a little cold water on Phase I by indicating they intend to pause easing.
Source: https://www.marketwatch.com/story/fomc-cuts-interest-rates-14-point-but-fed-also-signals-pause-2019-10-30
Low interest rates and QE is just the first tailwind.
Phase II: "Win" Trade War
I expect Phase II, the "Double Tailwind", to occur in 2020 and be timed for the election.
Phase II is kicked off either by winning the trade war, or (more likely) simply declaring the trade war won.
The market believing there won't be new tariffs is the second tailwind, which combined with the first forms the "Double Tailwind".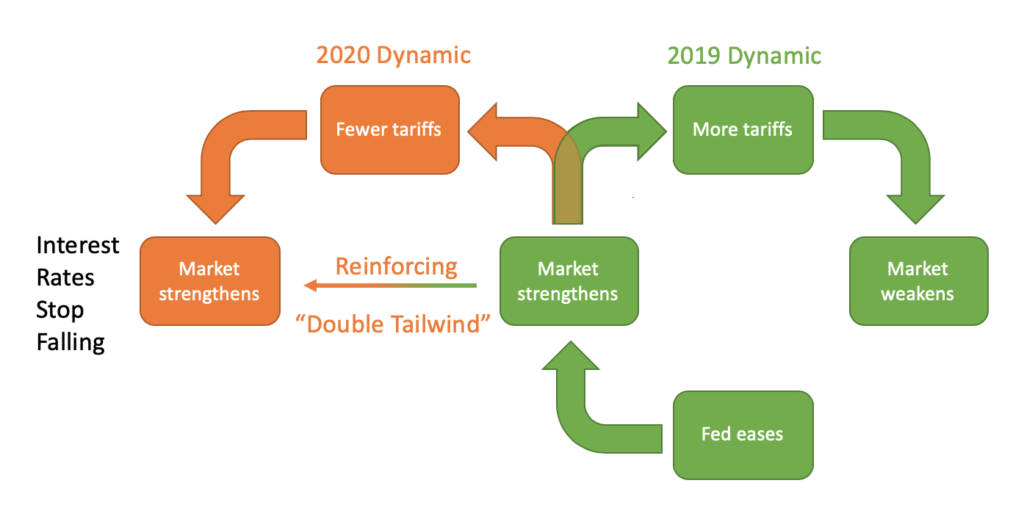 The "Double Tailwind" means the market isn't getting freaked out by tariffs and selling off and interest rates are low.
The US stock market could go to even higher highs and secure Trump's re-election. Trump can then use the bully pulpit of the presidency and appoint an uber-dove to ensure that rates are raised slowly or not at all.
Interest rates might very well stay where they are at. During the 30 October press conference Fed Chair Powell said, "I think we would need to see a really significant move up in inflation that's persistent before we even consider raising rates to address inflation concerns."
Source: https://www.zerohedge.com/markets/stocks-spike-after-powell-admits-no-rate-hikes-unless-significant-move-inflation
Why he appointed Jerome Powell only to throw him under the bus is beyond me, but he will probably do more to ensure he get's a low interest rate puppet as Fed Chair for his second term.
I don't know if Trump is planning this out in some grand '3D chess' maneuver or not. But if he is, I have to admit it has a sort of Machiavellian genius to it.
Potential Problems
Whether it is intentional or not, Trump is now responsible for blowing more air into what is now an even bigglier and uglier bubble and can join the ranks of the Presidents responsible for destroying the dollar and the US economy.
Quarter three GDP was up 1.9% beating the expected 1.6%. Employment is robust. Inflation as (not) measured is "contained". Between that and the S&P 500 rise will the Fed be able to justify continuing to cut rates?
Another problem is when you get high on heroin you have to deal with the crash. You can't take the heroin away and keep the high. In fact you have to keep taking more heroin to get a similar high.
Low interest rates are monetary heroin. So if interest rates don't continue to fall then the market will fall. This most recent "insurance" rate cut may have been the last. If so there is a whole year between now the election in which even the Double Tailwind can fade, bringing the economic ship to a halt. Timing the trade war "victory" correctly before the election will be essential.
[poll id="7″]