We are going step by step through buying bitcoins on Coinbase. Coinbase is my favorite way to buy Bitcoin because of its security and ease of use.
I've broken the process into three main steps 1) Setup Your Account 2) Add a Funding Method  3) Buy Bitcoins
These screens are up to date as of 2 April 2017 but Coinbase does update their user interface on a regular basis. HowIGrowMyWealth.com is a completely separate entity from Coinbase.
Step 1: Setup Your Account on Coinbase.com
Click this link and you'll get $10 in free Bitcoins when you buy $100 or more in Bitcoins.
1a. Fill out your First and Last Name, Email, then choose a password.
1b. Once you've done that, read the User Agreement and Privacy Policy, and check the box if you agree to these. Then click "Sign Up".
1c. You'll need to confirm your email address and then you're signed up with a Coinbase account!
Step 2: Add a Funding Method
Now that you have an account setup you need to configure funding in order to buy Bitcoins.
2a. Login to Coinbase using the email address and password you entered in Step 1a.
2b. Click "Settings"
2c. Once you're logged in and on the settings page click "Payment Methods"
2d. Click "+ Add Payment Method"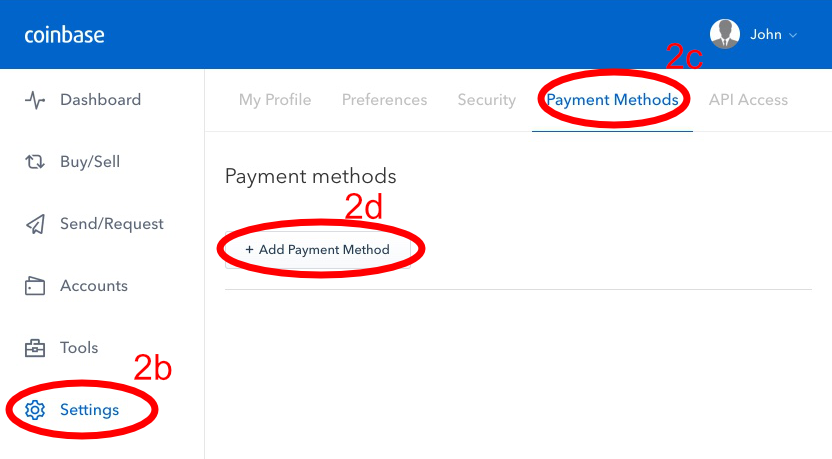 2e. Choose Bank Transfer or Credit/Debit Card. If you choose Credit/Debit Card you'll need to upload a photo ID.
2f. Follow the instructions that Coinbase provides for your given funding method until it is setup.
Step 3: Buy Bitcoins
Now you should have a Coinbase account setup and a funding method (Credit/Debit card or bank transfer) setup.
3a. Click "Buy/Sell"
3b. Choose the funding source you setup in step 2
3c. Enter the amount of dollars worth of Bitcoin you want to buy. Choose $100 or more to get $10 bitcoin free using this link.
3d. Click "Buy Bitcoin"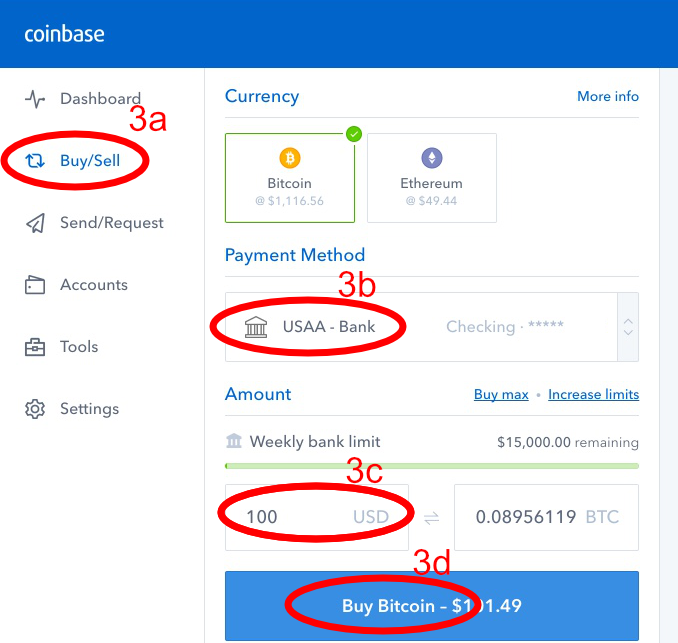 You'll get an email notification when the Bitcoins are in your wallet and voilà! You're now the proud owner of Bitcoin.
To check your Bitcoin balance click "Dashboard" on the left side.