Starting in October of 2008 gold made a run from 680 US dollars per ounce up to and over $1920 in September of 2011 for a gain of 182% in less than 3 years. Gold traded sideways and down for the next year and a half until April of 2013 when it crashed down to the low $1300s. For the next few years gold trended down in a falling wedge pattern. Gold was negative for years 2013, 2014, and 2015.
The recent multi-year low of $1045 was logged in December 2015 and I believe this price is the new bottom for the gold market.
Below is a chart of the gold market with my comments. Click the link if you're not familiar with reading candlestick charts.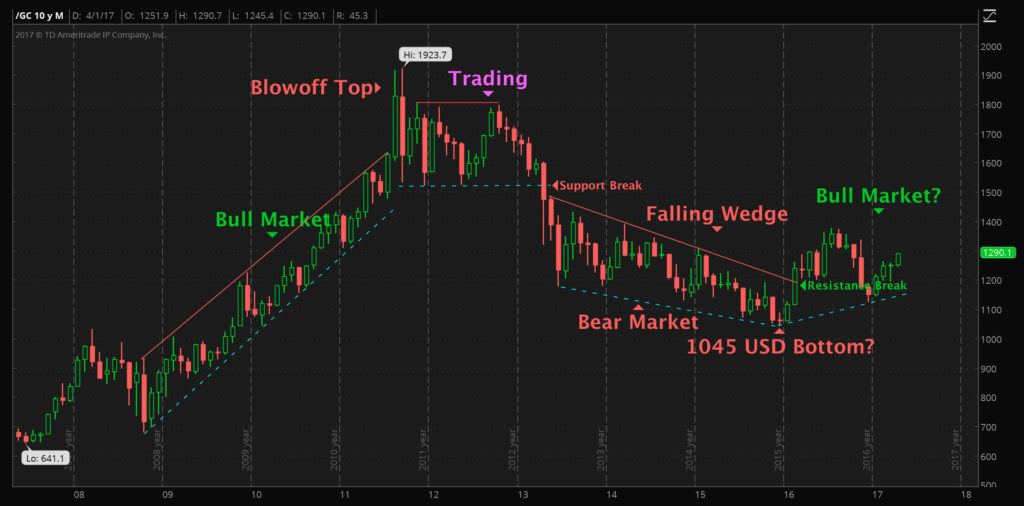 2016 was a positive year for gold even though a lot of the gains were surrendered in November. On the whole for 2016 the yellow metal was up over 9%. It's my opinion 2017 will continue this trend of gains in extension of a new multi-year bull market.
Gold is up over 11% in 2017. It started the year around $1,155 per ounce and is currently trading over $1,290.
Gold still Undervalued and US Dollars are Overvalued
Despite these positive moves I still believe gold is significantly undervalued at this price.
Why?
Paltry efforts at "tightening" at the United States Federal Reserve notwithstanding interest rates are at historic lows. There is also record debt and unfunded liabilities paired with an unbalanced budget. The United States Federal Reserve balance sheet remains over $4 trillion. Globally interest rates are also historically low and debt is high. There are even negative interest rates in Europe and Japan. Geopolitical risk of war in North Korea and Syria may have caused the most recent bump in precious metals price.
President Trump has recently done a 180 on several issues. He told the Wall Street Journal the dollar "is getting too strong." He has also warmed to Janet Yellen and has stated: "I do like a low-interest rate policy, I must be honest with you."
Source: https://seekingalpha.com/news/3256891-trump-talks-dollar-yields-gold-jumps?ifp=0
Source: https://www.wsj.com/articles/trump-says-dollar-getting-too-strong-wont-label-china-currency-manipulator-1492024312
The Recent Past of Gold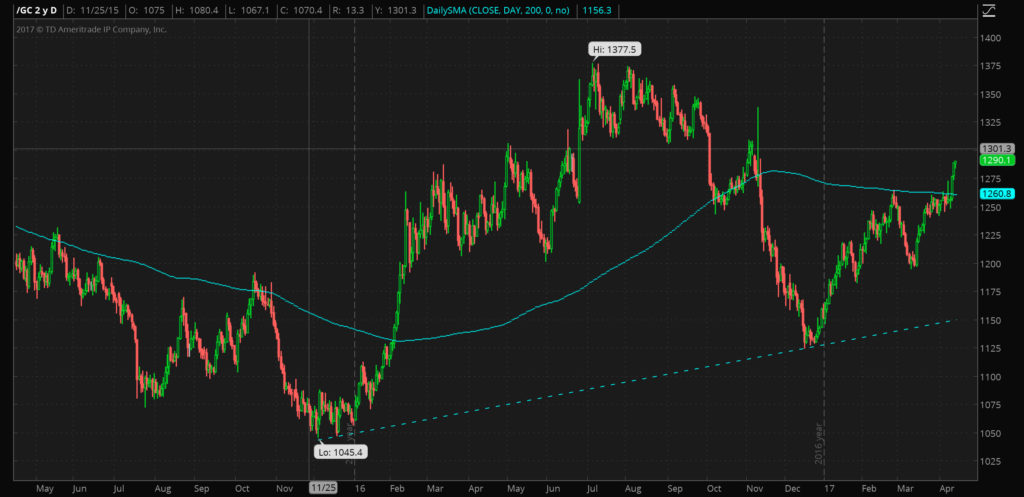 Last week gold made a strong move up through the 200 day moving average (the solid light blue line above is the 200 day simple moving average.
My Predictive Guesses as to the Price of Gold
The following are my guesses/predictions as to where the price of gold will move over the next year. I'm not recommending anyone buy or sell gold based on these predictions.
Gold has been trending upward since the December 2015 bottom. I think gold will make a new intermediate high between 1400 and 1425 in the fourth quarter of 2017. From that peak it should drop back down to 1260 sometime in mid-2018 perhaps around June.
Of course if there is another 2008-style crash or a hot war in the middle east then all bets are off.
Longer term I expect gold to make a new high above $1920 within the next four to eight years.
Although there is no substitute for physical possession of a percentage of one's precious metals I also think it is vital to have some gold stored offshore.
The most cost effective way to own physical gold offshore, particularly for investors will less capital, is through Goldmoney.
I personally own several grams worth of gold via Goldmoney and I've been extremely pleased with the service.
Gold has been valued across cultures for thousands of years. It has no counter party risk and I believe it is an excellent defensive holding.