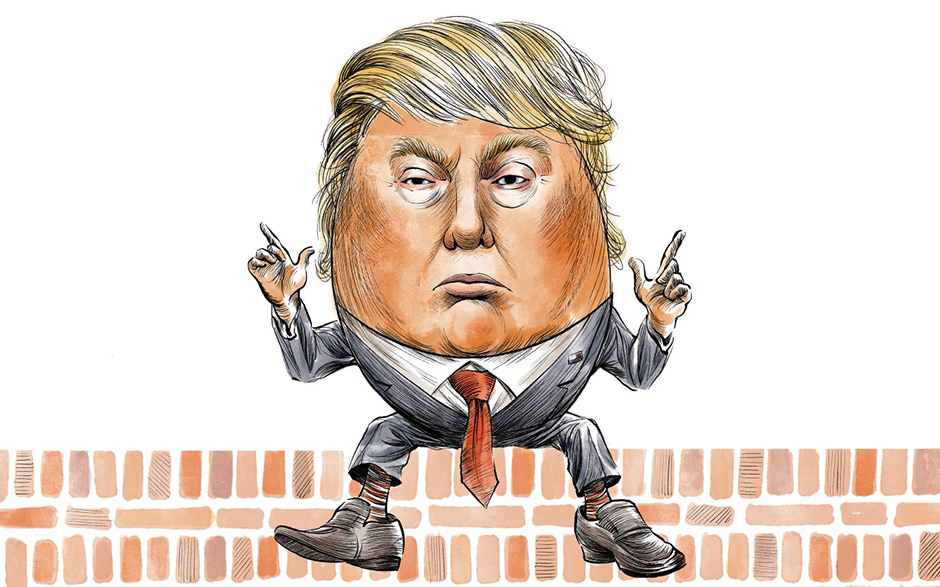 Article image above is by Chloe Cushman
Humpty Dumpty sat on a wall,
Humpty Dumpty had a great fall.
All the king's horses and all the king's men
Couldn't put Humpty together again.
Back in February of 2016 Candidate Donald J. Trump stated, "I hope I'm wrong, but I think we're in a big, fat, juicy bubble."
Source: https://www.cnbc.com/2016/02/08/trump-markets-in-a-big-fat-juicy-bubble.html
In the first presidential debate in September of 2016 Trump stated the US economy is, "in a big, fat, ugly bubble."
He also presciently said that when Obama returns to the golf course (did Obama ever leave the golf course?) that the U.S. Federal Reserve would raise interest rates.
Source: http://www.businessinsider.com/we-are-in-a-bubble-trump-debate-attacks-federal-reserve-chair-yellen-2016-9
"@Riggs101: Carl Icahn: Donald Trump Is Completely Correct That "We Are In A Bubble Like You've Never Seen Before"

— Donald J. Trump (@realDonaldTrump) June 21, 2015
Candidate Trump seemed to have some understanding that U.S. Stocks and Bonds are in a Bubble.
So President Trump should be concerned that the bubble is going to pop on his watch. But he seems to have pivoted to taking credit for the stock market just a few weeks after his election.
"We're doing really well. The fake news media doesn't like talking about the economy. I never see anything about the stock market" setting new records every day, he said.
Source: https://www.cnbc.com/2017/02/16/donald-trump-tweets-that-hes-the-reason-the-stock-market-is-rallying.html
Business is looking better than ever with business enthusiasm at record levels. Stock Market at an all-time high. That doesn't just happen!

— Donald J. Trump (@realDonaldTrump) August 3, 2017
Stock Market could hit all-time high (again) 22,000 today. Was 18,000 only 6 months ago on Election Day. Mainstream media seldom mentions!

— Donald J. Trump (@realDonaldTrump) August 1, 2017
Stock Market at new all-time high! Working on new trade deals that will be great for U.S. and its workers!

— Donald J. Trump (@realDonaldTrump) July 15, 2017
I don't know that Trump listens to any of his advisors, but if he did and I was one of his advisors, I'd encourage him to distance himself from the stock market.
Why?
President Obama got the advantage of the stock market high induced by low interest rate monetary heroin, and Trump is likely going to have to cope with the inevitable stock market crash and withdrawal.
President Trump is a Humpty Dumpty, perched upon the top of a stock market bubble, which is about to collapse.
President Obama had just 2 rate hikes over 8 years
President Obama began his presidency going into a time when the US Federal Reserve was providing extremely accommodative monetary policy. He then had near zero interest rates for the first 2,521 days of his presidency (just one month shy of 7 years out of 8) then the Fed Funds rate was hiked once for his last year.
Technically it was hiked a second time, but only for the last month he was in office and after Trump had won the election.
Effectively, rates were only hiked once in 8 years.
Rates have been hiked 3 times since Trump was elected
If you count the last rate hike during the Obama presidency, Obama had two rate hikes. If you consider the second hike during Obama's Presidency was just 37 days before he would vacate the White House, he really only saw one rate hike.
Within 54 days of Trump's inauguration the Fed raised rates from 0.50–0.75% range to the 0.75-1.00% range. Within 145 days of Trump's inauguration, rates increased again to the 1.00-1.25% range. So Trump has began his presidency going into less accommodative monetary policy and has already seen 2 hikes during his presidency and 3 since he was elected.
Setting Trump up for a Fall
Virtually no one who lives inside the Washington, D.C. beltway likes Trump. The established powers in Washington hate Trump. The leaders in Trump's own party hate him.
Trump's whole presidency was based on spitting in the face of the established powers in the Imperial City of Washington, D.C.
Fed Chair Janet Yellen is a Democrat appointed by Obama and she was criticized by Candidate Trump during the campaign–if she is like virtually everyone else in the Imperial City then she can't stand Trump.
Artificially low interest rates that are manipulated down by the US Federal Reserve and other central banks cause asset values to become artificially inflated in a bubble. President Obama received the "benefit" of these artificially low interest rates: the economy was able to limp along and the stock market continued to rise as valuations were artificially inflated by the cheap money.
In order for the US Federal Reserve to normalizes interest rates they need to pop the asset bubble they've created. I don't know if the Fed realizes they've created a bubble, but if they do, then popping it on Trump's watch would be ideal from their perspective.
What better way to get Trump out of office than to raise interest rates, pop the stock market bubble which would result in a recession and then ensure that President Trump is not reelected?
In the Machiavellian world of short term political expediency, Trump would do well to distance himself from the markets and put pressure on the fed to retain a more accommodative policy. It will make the problems worse but it will delay the pain. It's certainly not the right thing to do but it's what Presidents have been doing for decades.