I share how I grow and protect my wealth and one way I do that is by owning gold and silver. Gold and silver have served as money and a store of value for thousands of years and are a key component of my portfolio.
Gold
This year the yellow metal was as high as 1,370 dollars per ounce. But over the past few days the yellow metal has been pummeled and is now flitting about the mid $1,200s. It's still up 17% on the year, having started down at $1,060.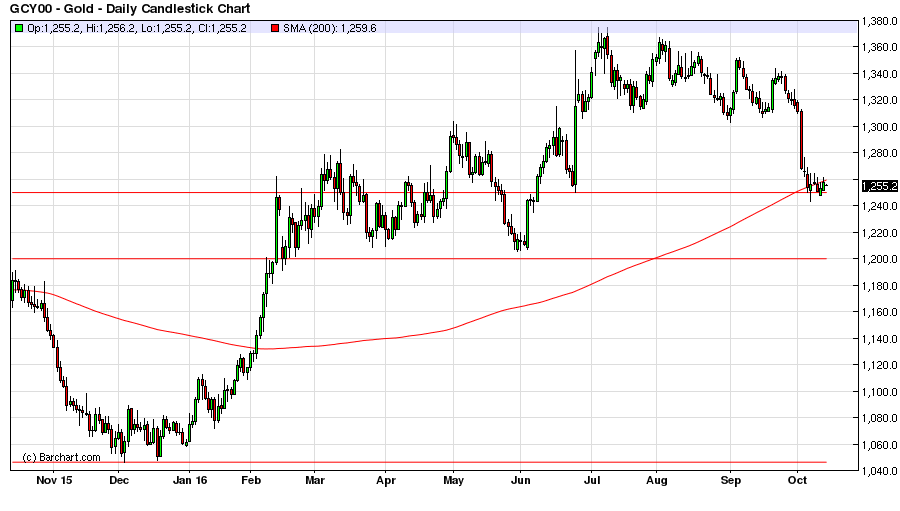 The horizontal red lines are what I think are support levels. There was support at $1,310 but gold blew through that.
Could gold go lower? Sure could.
It's certainly possible it goes back down to $1,200. But once the Fed does NOT raise rates in November, or even if they do and it's only by a paltry .25%, I think gold has a lot more upside potential.
I personally think this is a golden buying opportunity. If I wasn't already over-allocated to gold I would figure out how much free cash I have to allocate to gold. Then I would probably buy half now and then if gold does drop down to $1,200 buy the other half. If I had $3,000 to invest in gold I would buy physical bullion. With less than $3,000 I'd go with Goldmoney.
Goldmoney is a fantastic and low cost way to buy and store physical gold.
Silver
Silver is no slouch either. This metals used for electronics, industrial applications, jewelry and medicine is up over 23% year to date and the drop from the year highs of $20.75 down to $17 also presents a great buying opportunity in my opinion.
From a technical perspective $17 silver looks like a strong support level because it is the 30 day moving average and was a support (or resistance) level in April, May and June.
Waiting a few days to see if silver does break through the $17 support level or goes higher is a good idea. If silver does go down through $17 there could be support at the $16.25 level, but even stronger looking technical support appears at the $15.85 level.
The horizontal red lines are where I think the price of silver could find support. I think $17 could hold, but if not would likely retest $16.25 and/or $15.85.
Gold and silver are long term hedges against central bank recklessness and currency devaluation. I own these precious metals with a 5-10 year (or longer) outlook. I think a 10-20% allocation makes sense for my portfolio.
I've been wrong about gold and silver's price moves plenty of times. I'm not encouraging anyone to go out and buy bullion without doing their own research and consulting their investment advisor.