I own too much gold.
I'm an advocate of holding gold. I think it is a key part of my portfolio but I own too much as a percentage of my other assets.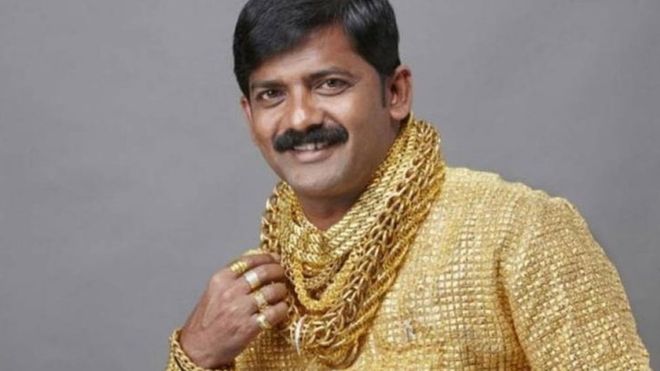 Not counting retirement-specific accounts, gold (and silver) make up 54% of my liquid net worth.
That is way too high for me!
So I decided to read what some public figures have said or written in regard to the percentage of a portfolio that should be gold (and silver).
The following is educational only and NOT SEC-investment-advice. So make up your own mind with the help of an appropriately licensed, registered, and SEC-anointed financial advisor.
If you think you can't own too much gold as a percent of your asset allocation here are five reasons why you can own too much gold.
Warren Buffett – Berkshire Hathaway – 0%
Warren Buffett doesn't like precious metals. He has several famous quotes regarding why he doesn't like the shiny stuff. While I wouldn't be surprised if he actually did own some precious metals, but the way he speaks he acts like he doesn't own any. I'm not a Buffett fan but I think you can learn from him if you carefully sift what he does from what he says or writes.
Source: http://www.fool.com/investing/general/2015/09/19/gold-silver-and-warren-buffetts-warning.aspx
Jim Cramer – CNBC – No More than 10%
Mad Money host Jim Cramer recommends no more than 10% in gold. He recommends owning gold via an ETF unless you have enough money to buy physical in bulk.
I'm not a Jim Cramer fan, but I include him because he is a big-time stock guy and yet he still recommends holding some gold. I think there is reason to believe the ETFs don't hold the gold they claim to so I don't like gold bullion ETFs. I also disagree that gold is just an insurance policy. Pure insurance (such as term or homeowners) is not an asset, it's an expense. I think gold is an asset class in and of itself.
Source: http://www.cnbc.com/2016/03/03/cramer-best-insurance-policy-for-your-portfolio.html
Peter Schiff – SchiffGold and EuroPacific Capital – 5-10%
Peter Schiff recommends 5-10% in physical gold. I was actually surprised by this low number because Schiff talks about gold and silver A LOT. Schiff's 5-10% allocation to gold and silver does NOT include mining stocks–but that is a different topic.
Source: http://business.financialpost.com/midas-letter/podcast-peter-schiff-on-gold-the-fed-and-the-worlds-addiction-to-stimulus
Tim Price – Price Value International – ~25%
In the September 2016 edition of Price Value International, Tim Price proposes owning roughly 25% in "real assets" like gold and silver.
Source: https://sovereignmanconfidential.com/pvi_onf_main
Mike Maloney – GoldSilver.com – 100%
Mike Maloney is the most pro-precious metals person I know of. He is 100% allocated to precious metals with 90% to silver American eagles and 10% to gold American eagles.
Source: https://www.youtube.com/watch?v=WGrK3AjKvnY
John – HowIGrowMyWealth.com – 10-25%
I would like physical precious metals to be around 10-25% of my liquid, non-retirement portfolio. I don't have an opinion on the amount of silver relative to gold. I am of the opinion that silver is more undervalued than is gold and as a result has more upside potential.
I think gold and silver are a great way to preserve wealth but they are not a great way to build wealth since they don't pay a dividend or yield. For many readers that might be obvious but I'm still learning!
I purchased a lot of gold in 2013, on the heals of the all-time highs, so much of my gold and silver holdings are worth less in fiat than I paid for them. So I intend to reduce my gold holdings as a percentage of my portfolio by focusing my savings and investments on other asset classes going forward. By doing this I can reduce my gold and silver holdings as a percentage of my assets without selling any of my gold and silver.
On the flip side, if my portfolio did have less than 5% physical gold I would consider adding to my holdings via gold maples, silver American eagles, and foreign-stored physical gold via a Goldmoney personal account held by a trusted and low cost custodian.